To report suspected Child Abuse please contact the ChildLine at 800-932-0313
Upcoming Events
Wednesday, October 5, 2022
Event Time:
12:00 PM - 12:00 PM
Membership Links
Interested in joining? Read more
Ready to join? You must complete our application.
Call for Speakers: Have a topic that you want PCYA to present about at an upcoming meeting? Complete this form to submit it for consideration.
Want to be included on invitations to training, events and notices? CLICK HERE to be added to our mailing list.
Child Welfare Professionals Appreciation Week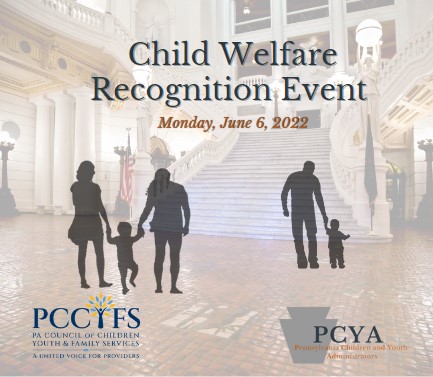 Pennsylvania Children and Youth Administrators (an affiliate of CCAP) along with the Pennsylvania Council of Children, Youth & Family Services invite you to an event on Monday, June 6, 2022 in the Main Capitol Rotunda from 11 a.m. to 12 p.m. to recognize Child Welfare Professionals Awareness Week (June 6-10) and Child Welfare Providers Awareness Week (June 13-17).
With so much focus on the child welfare system in Pennsylvania, it can be easy to overlook all the good work that caseworkers, service providers, and others do to protect and serve the Commonwealth's children. They work long hours in difficult situations because they believe that every child deserves safety, permanency, and well-being. These are the core tenets of our system, but they are only achieved through the hard work and commitment of those doing the work every day.
County Template Governor's Proclamation (.docx)